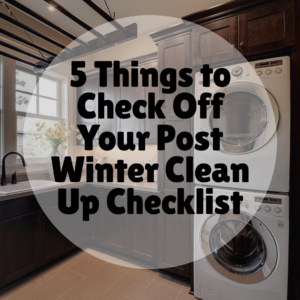 Ready, set…clean! Spring is just around the corner, and you'll want to check off a few boxes before you start your annual cleaning.
Tune Up Your Vac
Before you dive headfirst into deep cleaning your home, make sure all of your cleaning tools and products are ready to do their job. As far as your vacuum cleaner goes, replace the bag of your vacuum, then clean the dust cub. After that, depending on your make and model, either replace your filter or clean it with soap and water. Then use scissors to cut any hair or string stuck into your rotating brush.
De-Scent Before Doing Dishes
Sometimes the leftover food on your plates won't make it out of the dishwasher. Be sure to pop out your dishwasher filter and rise thoroughly, then add two cups of dishwasher cleaner to the bottom of your machine and turn it on low. Stop the machine mid-wash and let it stand for 20 minutes, then go in with a sponge or cloth and wipe up all the dirt and grime.
Help Clothes Get Clean
Before you toss tons of clothes into your washing machine, make sure it's as clean as a whistle. All you need to do is add some liquid chlorine bleach (the same one you use for your clothes) into the dispenser and run a normal cycle with hot water. If you have a front loading washer, be sure to wipe down the rubber gasket around the door. Also, while you're at it, make sure the inlet hose filter is free of debris.  
Dry Garments Even Faster
Do you want your clothes coming out of dryer warm and crisp? Make sure your dryer is lint free by unplugging it, pulling out the lint filter, using a comb to remove any leftover lint, and use soap and water to get rid of any excess buildup. You can also use your vacuum cleaner's crevice tool to remove anything caught in the lint trap.
Go Outside of Your Home
Not everything should be done in a DIY fashion. If the windows in your home are too high to be cleaned safely using a ladder, or you don't want to risk getting hurt, there's no shame in calling in the pros and having your windows cleaned professionally. However, if it's safe, sweep dirt off of the window frame using a brush that comes with a dustpan, then spritz your window generously with cleaner and use a lint-free cloth to wipe the windows dry. The key is to do this horizontally so the dirt doesn't seep down into the lower layers.
Source: Good Housekeeping