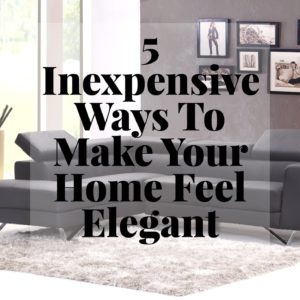 Who doesn't want to live in an elegant house? For most people, their home is a major source of comfort and a great place to recharge. If you're able to feel at peace in your home, and enjoy the surroundings, a major part of your life is made much easier.
Many people view having an elegant home to be something that requires a significant budget, but thankfully, there are plenty of steps you can take to enhance the visual appeal of your home without breaking the bank. Here are five inexpensive ways to make your home feel elegant:
Crown Molding
When it comes to decorating, details matter, as they have a way of making a room feel complete. Having proper crown molding in place will help to bring the ceiling and walls of your home together, giving them an elegant appearance, and you can install it on a small budget. If you want the greatest impact, choose the widest trim you can afford.
Paint
There are certain paint colors that can add instant glamour to your home. Choose either bold and dramatic or soft and understated shades. Both allow you to easily add elegance to your home, so feel free to choose whichever option that fits with your color personality. Make sure the remaining decor either goes along with the color palette or adds a hint of contrast.
Even better, paint your interior doors black. Regardless of the material, the door should look expensive without damaging your wallet. Just make sure you add some black accessories or furniture to make the space coordinate.
Window Treatments
These are a must-have. A home without window treatments simply looks unfinished and cheap. Avoid choosing unlined, flimsy, or see-through materials. Don't be afraid, though, as many stores offer beautiful, elegant, expensive-looking curtains for the right price. Choose natural materials like silk, linen, and even cotton (polyester and man-made fabrics usually look cheap). With the rice choices, curtains can add a lot of elegance.
Hardwood over Carpet
Yes, wall-to-wall carpeting is warm and soft, but it doesn't add the same elegance as solid, gleaming hardwood floors. This will be an investment, but it provides a nice return. Look at different types of wood because some are more expensive than others. If needed, choose laminate flooring to save on the material cost.
Accessories
Most homes lack the necessary accessories that bring an elegant touch. By choosing dark shades or gold, which are associated with wealth and riches, you'll be able to enhance the luxurious ambiance of your home. Unique accessories are often inexpensive and can be found in unexpected places, so don't be afraid to look around.
Source: Freshome