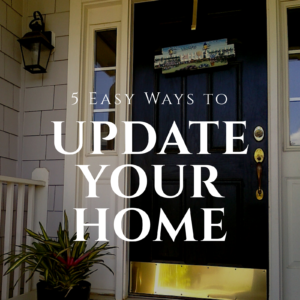 Whether you're interested in selling your home or getting ready to settle down for a while, upgrading your home is a great way to enhance its value and utility. Being careful not to overspend or get bogged down into time-consuming repairs, there are a number of steps you can take to revamp your house. Here are a few:
Enhance the entryway
As the old adage goes, first impressions matter. Consider replacing your front door, if you have the money- otherwise, freshen up your entrance with a new coat of paint. A new color can dramatically change the look of your home and even enhance your curb appeal. Other easy DIY fixes include repainting the exterior trim, replacing the house numbers, or installing new outdoor lighting.
Install a new backsplash
You don't have to choose the most expensive tile you can find. Try something simple yet uncommon, such as tin ceiling tiles, wooden beadboard, or stainless steel. Just make sure your the color of your new backsplash coordinates with the rest of the items in your kitchen.
Add architectural interest
Add a cozy, charming and traditional touch to any room by adding a chair rail, picture molding, crown molding, or a baseboard. In order to make it easy, ask your local lumber yard or home improvement store to pre-cut all the pieces to size. Just make sure you take accurate measurements, and don't be afraid to double or even triple-check your tape measure.
Illuminating ideas
Installing better lighting or hanging a new fixture is surefire way to brighten up any space. Done correctly, it can even make a room look larger or add a nice touch of elegance to the space. Consider making a fabric-covered drum shade that complements the rest of your decor, installing a dimmer switch to make your lighting more versatile, or give an old chandelier new life with a few cans of spray paint.
Accessorize the cabinets
Switching out the cabinet hardware is a cheap and easy upgrade. To make your life easier, find knobs and pulls that are the same size as your existing ones.
Source: DIY Network