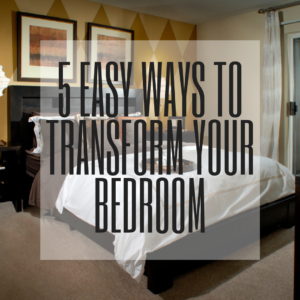 Who doesn't want to have a nicer bedroom? For many people, their bedroom is a safe place that allows them to relax and forget about the troubles of the outside world. It's important that your bedroom can serve as a sanctuary of sorts, and regardless of your budget and size limitations, there are easy steps you can take to transforming it.
Here are five easy ways to freshen up your bedroom:
Pile on the pillows
Add as many comfy pillows as you'd like. Not only does it make your bed more comfortable, but it adds a design-like touch. As long the colors coordinate, don't be afraid to combine large prints with smaller ones or florals with geometric patterns.
Put Pattern to Work
Whether you love bold stripes, printed botanical designs, or attention-grabbing polka dots, a printed bedspread can do a lot of the heavy lifting when it comes to decor. Now that you have a focal point, you can go lighter when it comes to accessories and furniture design.
Reveal a personal side
Your bedroom should reflect your personality, not just your general style. Add some family photos, perhaps in black and white with coordinating frames. Scatter some of your favorite souvenirs, art pieces, or little knick-knacks like seashells, statuettes, or even action figures. If necessary, spray paint them in a solid color so they can match the space more easily.
Layer with color
This may be bold, but consider choosing your favorite color and adding various saturations and shades of it throughout your bedroom. You can even incorporate prints that feature that color for some added variety. In order to keep balance, though, you'll want to add some neutral elements.
Reinvent your safe haven
Tuck a comfy (perhaps even reclining) chair into the corner of your bedroom for an instant resting spot. Add some lush silk draperies, large fluffy pillows, or thick patterned blankets to transform the tiny unused nook into a comfy cocoon.
Source: Real Simple