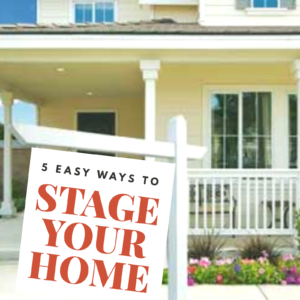 If you're interested in selling your home quickly, and at the price you want, you'll need to know how to properly stage it. For those that don't know, staging a home consists of highlighting its strengths and making it seem as livable and appealing as possible. To do so, you'll need to follow basic best practices. Here are a few:
Bye, Bye Clutter
One of the most important things you can do to prepare your home for potential buyers is to remove all clutter. Implement a new rule: for every new item that comes in, an old one has to go. A major contributor to a cluttered look is having too much furniture. Follow in a professional stager's footsteps and remove up to half of your furniture. Your house will look that much bigger and better-organized because of it.
Furniture Groupings
Many people believe that rooms will look larger if all of their furniture is pushed against the wall, but oftentimes, that's not the case. Instead, try floating your furniture away from the walls. Reposition your sofas and chairs into cozy conversational groups. Try to make the traffic flow in a room obvious by strategically placing your pieces in certain locations. This will make your home seem more user-friendly, open, and large.
Room Transformations
If you have a room or even a small nook for which the only purpose is to gather junk, transform it into a space that will add value to your home. Simply adding a comfy armchair, side table, and lamp into a stairwell nook can instantly repurpose it into a cozy reading spot. Lay rubber padding or carpet onto the floor, toss in some cushy pillows from your bedroom, and drape some fabric onto the walls of your bedroom.
Home Lighting
Staged homes often look warm and inviting due to the quality of their lighting. Believe it or not, most homes are improperly lighted. Try increasing the wattage in your lamps and fixtures and have a goal of 100 watts for every 50 square feet. Don't limit a room to one or two fixtures, either. Incorporate all three types of lighting into every room, if possible: overhead ambient lighting, practical task lighting (often used for reading, as an example), and accent lighting on your tables and walls.
Make it Bigger
To make a room appear larger than it is, consider painting it the same color as the room next to it. For instance, if you have a small kitchen and dining room, the same paint color can make the two rooms feel like one big, seamless space. You can even make a sun porch look grander and more inviting by painting it green to reflect your home's surroundings. You can also paint the walls the same color as your curtain (or add in curtains that match your walls) to create the illusion of more space and add a sophisticated touch.
Source: HGTV