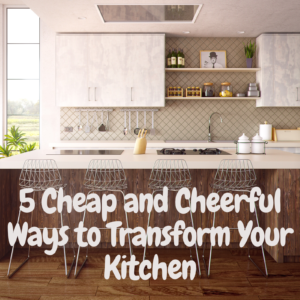 You don't have to gut the whole space (or your wallet) to update your kitchen and make the space look brand new. Kitchen models can sometimes cost upwards of $40,000, but you shouldn't have to shell out your savings to get a new look. Here are 5 easy ways to refresh your kitchen:
Get New Handles and Pulls
Switching out the hardware on your cabinets is one of the easiest ways to liven up your kitchen. Check out colorful options or make the space look more modern with brushed nickel. As a general rule, try to avoid getting something too personal or cutesy.
Paint Your Cabinets
New cabinets can be expensive and switching them out can take a lot of time. Instead, consider updating your cabinets with a fresh coat of paint. Change your dull wood into a modern black, a pure white, or even a lime green for a fresh pop of color. Just make sure it coordinates with the rest of the room.
Swap Out Cabinet Doors
Want to make more of a change than just paint? Replace existing cabinet doors with those of a completely different style and color. This can give the space a major overhaul and will make it seem like you replaced your entire cabinetry without the added cost or time. Consider removing some doors and allow for open shelving. This can create the appearance of increased open space and can be used to display your beautiful china or some brightly colored bowls and plates.
Paint an Accent Wall
Don't want to spend hours painting your cabinets? Simply paint an accent wall instead. Go a few shades darker, or if your walls are already dark, go a few shades lighter. You can also choose between painting your accent wall in the same shade range as your other walls or using something completely new for a fresh pop of color. Whatever you choose, however, make sure it adds fresh contrast while coordinating with the remaining space.
Hang a Pendant Light
Tired of your kitchen's decades-old lighting arrangement? Replace it with a pendant light or any other design of your choosing. Good lighting is vital to any room and this simple change can completely transform the space. There are many places to find inexpensive, high-quality lighting, whether you're shopping online or in the clearance section of a given furniture store.
Source: Good Housekeeping