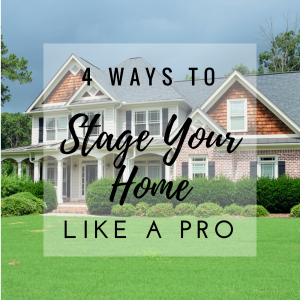 When selling your home, you'll want it to look its best so it can fetch the best price. You could hire a professional stager, or you can take matters into your own hands.
Here's how to stage your home like a pro:
Pack away personal items
This is one of the simplest and easiest things you can do to sell your house quickly. By packing away your belongings, you'll depersonalize the home and allow buyers to view it as their own potential home. Be sure to remove family pictures and religious items from plain sight.
Rearrange and neutralize rooms
Try to make each room have a distinct, useful purpose. Consider touring builder's models to see how their rooms are furnished and mimic those using your own furniture. After all, builders are experts on preparing their products for potential buyers.
Use a fresh coat of paint
If your home has been painted recently, you're definitely ahead of the game. If not, use a paintbrush on the places that need it the most. Experts say that sellers who paint the inside of their house get major returns on their investment. Choose more neutral colors to appeal to a wide variety of buyers.
Scrub and deodorize
No one wants to see a dirty, smelly home, particularly potential buyers. It's important that people visiting your home are able to imagine themselves living there. If they see an unkempt home or get an unpleasant odor when they first walk in, they become deterred immediately. Oftentimes, they cannot look past it to see all of the amazing features of the home. Have everything professionally cleaned or simply take out the mop and the sponges. Even better, bake some cookies during open houses to keep the fresh smell.
Source: Bankrate