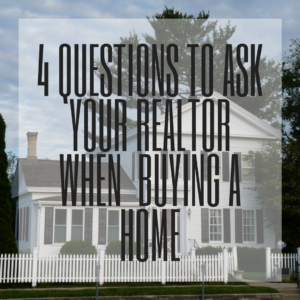 Have you finally found a home that you're swooning over and dying to own? It can be tempting to jump into the buying process, overcome with excitement, but it's important to ask a few questions first. There are a number of factors that'll play into whether buying a given home will be the right call, beyond its overall appearance, price, and location, and you'll want to make sure everything's in order before pulling the trigger.
Here are four questions to ask your realtor when buying a home:
What is the home's sales history?
Figuring out the last time your would-be dream home was sold and the selling price at the time will help you to determine how much the house is currently worth, and the overall history will lend an idea of whether it's been trending up or down over time (which should also help with negotiations). You can find your home's sales history by asking your agent or looking at its MLS listing.
Did the sellers make any major renovations?
Find out if your home's sellers recently renovated the kitchen, added a bedroom, or finished the basement. If possible, try to find out what they paid for these upgrades. This way, you'll be able to see how much money the owners put into their home and how much they'll expect to get back when selling. However, know that you don't have to tack on the full amount when negotiating prices.
How much are the property taxes?
You can usually see the home's property taxes on the listing detail page, and if not, ask your realtor. Try to find out what the previous owners paid, as this will be a major additional cost and you'll need to make room for that in your monthly budget. Keep this in mind when crafting an offer. However, know that property taxes are based on the current value of the house and will most likely be affected by your purchase price.
What are the monthly maintenance and utility costs?
Find out if there are any homeowners association fees. Learn what kind of power the house uses, whether it is gas, electric, oil, or a combination. Then, find out what the average monthly bill is, as these factors will play a large role in the total cost of owning your home.
Source: Realtor.com