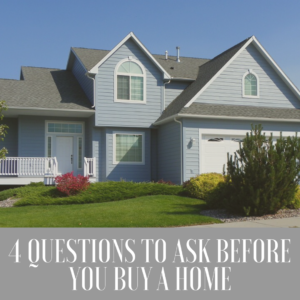 Are you ready to buy the home of your dreams? It's an exciting prospect, to be sure, but it'll be helpful to ask yourself a few questions before making a life-changing decision. With the right information at hand, you'll be able to make difficult choices with confidence.
Here are four questions to ask yourself before buying a home:
What is my total budget?
Although you may think you understand the price range that matches your income and assets, it's common for there to be other costs that you haven't considered that will be important when making a final offer. Think about any renovations, repairs or cosmetic changes you're going to have to make. These all need to be factored into the cost. In addition, get an estimate of your monthly mortgage payments to see they'll factor into your monthly budget.
Is my financial house in order?
Even if you have the right price in mind, you still need to be able to prove to your lender that you can close. Before placing an offer, it's important to get preapproved for a mortgage. This will help you understand how much you can afford, and also lets the seller know that you're able to purchase their property and close the sale quickly. Check your credit score in order to make sure you'll get preapproved by a lender. Even with the right credit, a bad credit history can disqualify you from getting the best rate.
What kind of loan should I get?
Should you choose a 15 year or 30 year loan? Don't know whether a fixed or variable rate mortgage is right for you? There are no one-size-fits-all mortgages, and the myriad terms can be overwhelming. That's why it's important to find a knowledgeable loan officer. This way, he or she can show you the different products available so you can get the loan that best suits your needs.
What are the actual costs due at closing?
The closing costs for buying a home extend beyond the down payment- they can include attorney fees, real estate agent commissions, home inspection bills, title insurance, and more. You might also need to put down more capital beyond these one-time fees, depending on how you're financing the purchase. If your down payment is less than 20% of the home's price, for example, you'll likely have to take out mortgage insurance, which requires additional cash to be put into an escrow account during closing.
Source: Bankrate